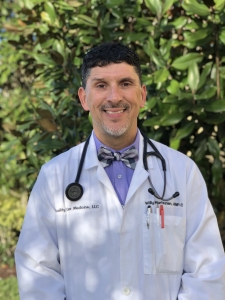 My name is Willy Martezian and I am a board-certified adult nurse practitioner with over 30 years of health care experience which the last 15 years practicing as a nurse practitioner.
I graduated from The University of Stony Brook, NY with my master's in nursing in 2004. Throughout my academics I received a few awards that I am very proud of. I have been on the deans list nearly every semester of my academic career as well as making Magna Cum laude in my graduate years. I was also privileged to be the only student in my undergraduate class to have been awarded the distinct honor of "Clinical Excellence". This award is given to a student who excels in his class, exceeds knowledge in nursing, expertise, teaching, leadership and personal attributes that contribute to the delivery of quality patient care.
I moved from NY to Florida in 2009 where I started working here on the Treasure Coast. I had the opportunity to work with multiple wonderful colleagues and over the years have gained a greater understanding of the health care needs surrounding the Treasure Coast. I started treating patients in Assisted living facilities at the request of families and patients themselves. This took the burden off busy families and patients by proving medical care in their homes/Assisted living facilities without long waits sitting in medical offices. Not long after I realized the importance my role was by proving theses private medical services. I grew a large population of patients requesting me to become their medical provider and decided to continue this and eventually opened my own mobile medical company called, Quality Care Medicine, LLC in 2012.
Over the years I have gained the trust, respect and admiration of many local assisted living facilities here on the Treasure coast that they continue to welcome me to their facilities in caring for their residents. For the past 7 years I have been providing medical care to patients in assisted living facilities and I plan to continue providing the best medical care I can.
I travel to all 3 counties to include Martin, St. Lucie and Indian River.
"Keeping Patients Health" is the number one priority of Quality Care Medicine, LLC
Personal:  When I am not working, I enjoy spending time with my family and 2 dogs. I also participate in Cross-fit 5 x a week along with Tennis 2 x a week. I also love to travel with my beautiful wife Tia.